Social Security Beneficiaries to Receive 2.8% COLA Increase in 2019
Nov 12, 2018
The federal government has announced that Social Security beneficiaries will receive a 2.8% cost-of-living adjustment (COLA) for 2019. The increase, while modest, is the largest retirees have seen in seven years. The current average monthly benefit for Social Security is $1,400. "The increase will help all Social Security beneficiaries, seniors, surviving spouses and children, as well as people with disabilities," said Robert Roach, Jr., President of the Alliance for Retired Americans. However, the increase is not enough to keep up with the rising cost of health care and especially prescription drugs, which far exceeds the rate of inflation.
A Win for Students, Educators and for Retirees
Nov 07, 2018
From: MEA Capitol Comments
Wins for a slew of MEA-recommended candidates in Tuesday's election, highlighted by Gretchen Whitmer's victory in the race for governor, represent a "course correction" for Michigan and public education, says MEA President Paula Herbart.

"With Governor-elect Whitmer's victory, along with many new pro-public education legislators, we look forward to our state's top elected officials reaching out to front-line education experts—teachers and school support professionals—to ensure their voices are heard before making education policy decisions," Herbart said in a statement.

Now the real work begins, according to Whitmer. "Voters rejected agendas that don't put our kids' education first," she added, noting her pledge to level the playing field and make the state a place where kids stay, families thrive, and people come to for opportunity.

"I'm determined to work with everyone who wants to make sure that is the future of our state," she said.

Five MEA members won election to state-level office on the heels of the nationwide #RedForEd movement, including two in northwestern Wayne County who flipped seats from red to blue in tightly contested races: Livonia teacher Dayna Polehanki won Senate District 7, and Monroe County teacher Matt Koleszar will represent House District 20 .

Polehanki said her win was a victory for anyone tired of the status quo. "This election was about bringing a new approach to Lansing – an approach that puts people over special interests to deliver clean water, better schools, and safe roads for every Michigan family."

Continue reading. . .
Win for Whitmer is Win for Students, Educators
Nov 07, 2018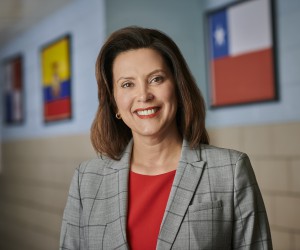 From: MEA.org
Posted: November 6, 2018
Statement from MEA President Paula Herbart

DETROIT – The following statement can be attributed to MEA President Paula Herbart regarding tonight's victory by Gretchen Whitmer in the race for Michigan governor:

"Today a few million Michiganders joined tens of millions of Americans
Legislative Actions Supersede Ballot Proposals On Employee Issues
Oct 20, 2018
From MiARA
Three initiative petitions that had been proposed for the ballot were enacted into law by the legislature, and therefore will not appear on the ballot.
Repeal of Prevailing Wages: The state legislature voted to enact the proposal to repeal Michigan prevailing wage laws on June 6, 2018, rendering the proposal ineligible to appear on the ballot, and taking away the chance for Michigan voters to decide this important issue directly.
Michigan One Fair Wage: The legislature passed a gradual increase of the hourly minimum wage from $10.00 in 2019 to $12.00 in 2022. This has replaced the ballot proposal that had been set to appear on the November ballot.
MI Time to Care: Michigan lawmakers passed into law a requirement that employers provide sick leave for personal or family health reasons, subject to certain conditions.
Congress Eyes Giving the Pharmaceutical Industry a Gift after the Elections
Oct 07, 2018
Alliance for Retired American's
The pharmaceutical industry is lobbying Congress in hopes of receiving a $4 billion windfall in the lame-duck session following the midterm elections, after losing an attempt to secure the money as part of the bipartisan opioids package passed last week. According to drug company executives, the money is designed to correct a technical error for the $11.8 billion Congress required them to pay over 10 years in a budget deal earlier this year in the fight over the Medicare Part D doughnut hole. That money was to go toward seniors' medicines.
Consumer advocates are calling the potential windfall an industry buyout, arguing that the money would do nothing to lower drug prices. Pharma lobbyists are some of the most powerful in Washington, and many drug makers have formed alliances with lawmakers who would otherwise push back against skyrocketing drug costs.
The drug industry has reason to worry if Democrats secure control of the House after the election. Many Democratic representatives have promised investigations into rising drug prices, and will push to allow Medicare to negotiate for lower prices. Republican committee chairs and leadership have been friendly to drug companies, something that could change with new leadership.
Democrats would also like to allow drug importation from other countries in order to make drugs more affordable. However, the newly negotiated US-Mexico-Canada Agreement includes intellectual property protections for American drug makers that shield them from foreign competition and prevent importation.
"The voices of seniors who are struggling to afford their prescriptions should outweigh those of pharmaceutical CEOs who just want to line their pockets with more profit," said Alliance President Robert Roach, Jr. "We must elect representatives who will fight for lower drug prices, not billion dollar windfalls for PhRMA."